Let This Coney Island Strongman Inspire You in Exclusive 'Bending Steel' Clip
Published on August 5, 2015 by Indiewire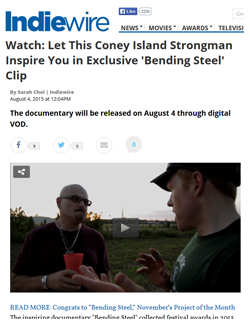 The inspiring documentary "Bending Steel" collected festival awards in 2013 and continues to make waves through its surprisingly emotional story of Chris Schoeck, an aspiring Coney Island Strongman who tries to exceed his physical and mental limits by bending steel. The documentary tracks Schoeck's training and internal struggle as he attempts to see through his dream of becoming an Oldtime Strongman.
Watch in the exclusive clip above as Chris explains where he gets his confidence from and seeks a mentor who believes in his ability and conviction.
The documentary is now available on digital VOD.