Watch This Exclusive Clip From 'Bending Steel' Documentary
Published on August 4, 2015 by Twitch Film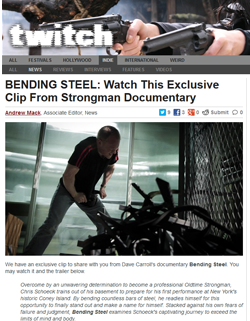 We have an exclusive clip to share with you from Dave Carroll's documentary Bending Steel. You may watch it and the trailer below.
Overcome by an unwavering determination to become a professional Oldtime Strongman, Chris Schoeck trains out of his basement to prepare for his first performance at New York's historic Coney Island. By bending countless bars of steel, he readies himself for this opportunity to finally stand out and make a name for himself. Stacked against his own fears of failure and judgment, Bending Steel examines Schoeck's captivating journey to exceed the limits of mind and body.
Bending Steel is now available on iTunes, Google Play, Amazon Instant Video, and bendingsteelmovie.com.