A Strong Man Wows Them
Published on September 4, 2015 by Hampton Star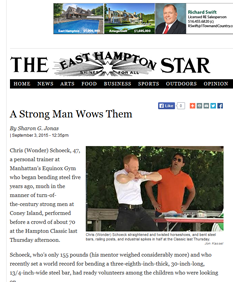 Chris (Wonder) Schoeck, 47, a personal trainer at Manhattan's Equinox Gym who began bending steel five years ago, much in the manner of turn-of-the-century strong men at Coney Island, performed before a crowd of about 70 at the Hampton Classic last Thursday afternoon.
Schoeck, who's only 155 pounds (his mentor weighed considerably more) and who recently set a world record for bending a three-eighth-inch-thick, 30-inch-long, 13/4-inch-wide steel bar, had ready volunteers among the children who were looking on.
"I don't know how he does it," 13-year-old Joseph Misa said after he and his cousin, Arianna Roye, who's also 13, tried to budge a three-eighth-inch-thick, 17-inch-long, 2-inch-wide steel bar.