"As gripping as any big-budget Disney sports film"
Published on September 12, 2013 by The Source Weekly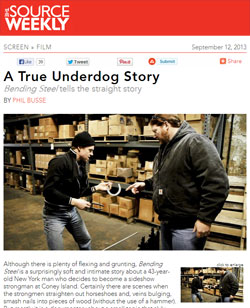 Although there is plenty of flexing and grunting, Bending Steel is a surprisingly soft and intimate story about a 43-year-old New York man who decides to become a sideshow strongman at Coney Island. Certainly there are scenes when the strongmen straighten out horseshoes and, veins bulging, smash nails into pieces of wood (without the use of a hammer). But mostly it is a documentary about a small topic that slyly plays out on massive themes — which is to say that this is an unexpectedly beautiful and touching film about growing up, a movie remarkably wide-reaching in spite of the acutely specific topic and the painfully introverted main character, Chris Schoeck.
On the surface, Schoeck is truly unremarkable. He isn't some bulking and hulking muscle man and, really, is more about determination than superhuman strength. But that is what makes his story so accessible. He is a painfully lonely man, with an odd obsession—to bend a two-inch bar of steel in front of an audience.[...]